Nicki Mayo is the multimedia journalist behind Nicki Mayo News, LLC.
The Baltimore native and Syracuse University alumna is the Digital Editor for The Philadelphia Tribune's PhillyTrib.com website and various social media accounts. She is also a "Pressing Matters" political analyst/contributor for Philadelphia's 900AM WURD "Reality Check with Charles Ellison."
Nicki comes to Philly after working three years as a national correspondent covering breaking news for the Associated Press Radio Network and the AP's Race and Ethnicity team in Washington, D.C.  She also reported and produced videos for the American Heart & Stroke Association and taught journalism & speech at Cheverly STEM Education Center.
You may have seen and heard Nicki's work recently  on TV One 's "News One Now," "Fatal Attraction," "Justice By Any Means" and "Thou Shalt Not" as well as anchoring  for National Public Radio station WAMU-FM 88.5 in Washington, D.C. and for 1430 WNAV Radio News in Annapolis.
Nicki was on the flagship team for E.W. Scripps' The List," helping launch the national entertainment news program in 2012 as the Baltimore correspondent  based at WMAR-TV ABC2.
Before this, Nicki covered & edited stories for Aol.com as the Local Editor for Crofton Patch covering Crofton and Gambrills, Md.
In 2009 Nicki helped launch YNN Buffalo, a 24hour Time Warner Cable news station. She was a general assignment reporter covering Western New York and New York State politics, including the 2010 gubernatorial race.
Before Buffalo, Nicki headed to the Appalachian Mountains in the Tri-Cities (Tenn./Va.) in 2008 where she covered news and live reports on a multimedia platform as a News Channel 11 Morning show reporter and Tricities.com Content Coordinator. She delivered live shots & news packages for Media General's WJHL-TV viewers, The Bristol Herald Courier & Tricities.com.
In 2007 Nicki shined in the Sunshine State at SNN News 6 in Sarasota, FL as a Reporter/Producer and a writer for the  Sarasota Herald Tribune (a New York Times newspaper).
The Marylander was also a reporter/producer for CTV 76 in Prince George's County and an English teacher at Charles Herbert Flowers High School.
The Baltimore City native was an associate producer for WJZ-TV 13 (CBS) and for BET News and Public Affairs. Here she produced segments for BET Nightly News, BET Tonight with Tavis Smiley, Ed Gordon, and Jacque Reid as well as Lead Story with Cheryl Martin.
Nicki began her journalistic career in Central New York reporting for National Public Radio at WAER-FM 88.3 (NPR) while attending Syracuse University.
Nicki is the immediate past president of the Baltimore Association of Black Journalists, a National Association of Black Journalists Region 1 Deputy Director and a member of Delta Sigma Theta Sorority, Incorporated (initiated in the Baltimore Metropolitan Alumnae Chapter Spring 2003)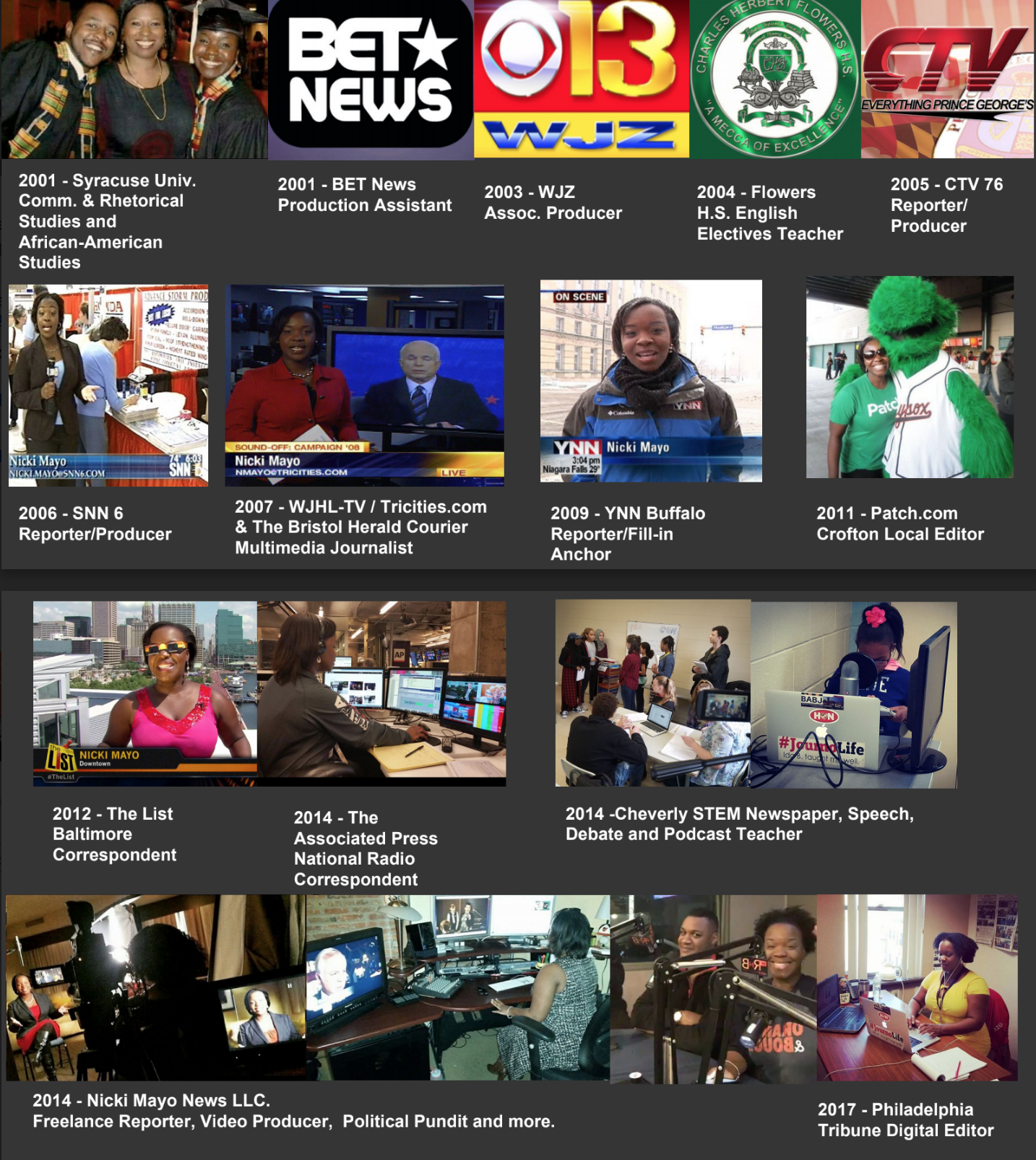 ###